A Sad Day For Comedy
Before I write about what's on my mind to do with work, I'd just like to mention that one of my all-time comedy favourites died yesterday. I was rather upset by the news that Ronnie Barker had died, as I grew up with sitcoms such as "Open All Hours" and "Porridge", not to mention the Two Ronnies.
Ronnie will be remembered with great fondness by comedy fans everywhere.
RIP Ronnie.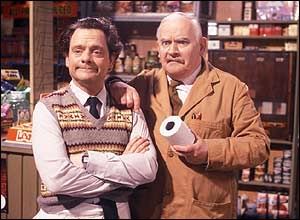 (Above picture taken from Open All Hours, co-starring David Jason.)
Fares Fair?
London Mayor Ken Livingstone has today announced that fares are going up from next year.(TfL Press Release
HERE
.)
Basically, what this means is that the minimum Tube and DLR adult cash fare rises to £3 and the cash single bus or tram fare to £1.50. That's a HUGE increase!
However! There is some good news! The prices will actually be lowered if purchased using an Oyster pre-pay card.
The obvious intention is to get people using the Oyster pre-pay cards rather than cash. Is this a good idea? I'm not so sure. I agree that the fare decreases for Oyster customers will be most welcome, however maybe I'm too cynical, but once everyone swaps to the Oyster, what's to stop Ken then stopping their discounts and everyone will be paying full whack?
Signals (again!)
Two serious signal problems this evening. The first one at Ealing Broadway around 1600ish (just after I'd left!!) and then a little later at Wimbledon, which is actually controlled by Network Rail.
Both caused lots of cancellations, including my train which the controller asked me to leave in Barking sidings to save getting caught up in the chaos in the west! Unfortunately, I still had to catch a train back to Earl's Court to pick up my second train, so I was still late. Ah well, that's life!
Deliberate?
I wrote a while ago about some people who were obviously leaving packages on trains and stations deliberately to see what reaction they could cause.
One of my colleagues was telling me that she had to evacuate the train and Westminster station on Sunday night because of such an occurence.
The train had stopped in the platform when the driver noticed a man running down the platform towards the cab. She opened her cab door to be told of two men who had been acting suspiciously in the rear carriage and had legged it leaving a bag behind. Obviously with this sort of behaviour, no chances could be taken, so the train and station were immediately evacuated and the bomb squad called in.
Apparently the bomb squad were very quick to arrive, and after a short while announced the bag was... full of rubbish. Obviously left deliberately.
I only hope that the police will take the CCTV tapes and try to find the two men, and charge them under the terrorism act. Lock them up for a few years, that would soon knock some sense into them. Bloody idiots.
Anyway, that's it for now!